Hi Everyone!
My name is Ching.
I am on the SR Design Team for Cuttlebug Challenge Blog!

I fell in love with this Stationary Box that was originally designed by Jackie Topa and I wanted to share with you my version that I created with the February Kit from Art Freckles called "Ticket to Whoo-ville."

This is the outside......

....and this is what the inside looks like.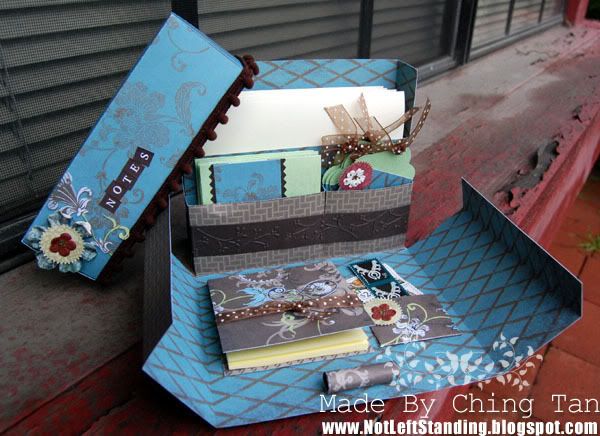 I created a pictorial tutorial for you if you'd like to make one for yourself. Go grab a cuppa cuz this is going to be a long one. :)
Supplies Needed: (for the stationary box holder and top only)
* 3 pieces of 12x12 cardstock and/or coordinating patterned paper. (In my example, I used only
patterned papers from the Art Freckles kit.)
* Paper Trimmer with trimming AND scoring blade
* Scoring bone to crease your folds
* Red sticky double sided tape
* Embellishments to decorate the outside of your Stationary Box. (In my example, all embellishments except for Prima flower are from the Art Freckles kit.)
Additional Supplies Needed: (for set of 4 tags, 4 qty 3x3 cards and 4 qty 4.25 x 5.5 cards)
* 3 sheets of 12x12 cardstock for card and tag bases.
* Additonal patterned papers and embellishments as required to create these items.
NOTE:

The cards and tags will NOT be covered in this tutorial.
PART A: Making the Stationary Box Unit
Step #1:
Take your first piece of 12 x 12 paper and SCORE IT @ 3 inches and 9 inches.
Step #2:
Flip this same piece of 12 x 12 paper around, now SCORE IT @ 5 inches and 7 inches.
Step #3: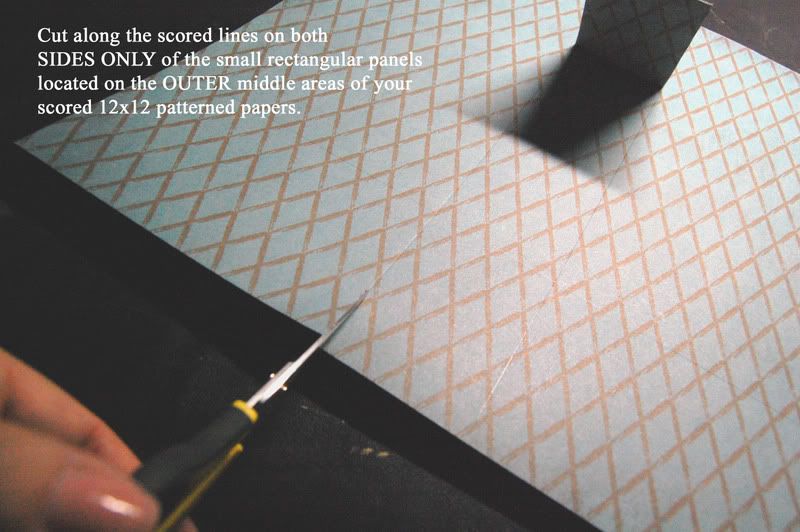 Step 4:
Step 5:
fold and glue it down like this.
Step 6: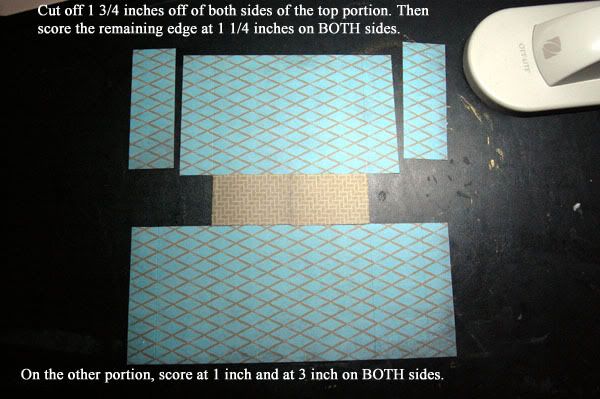 Step 7: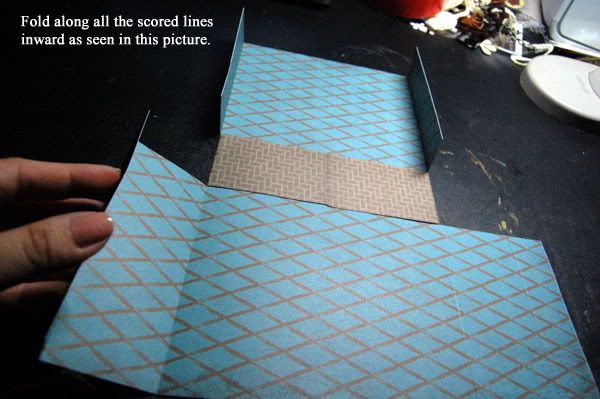 Step 8: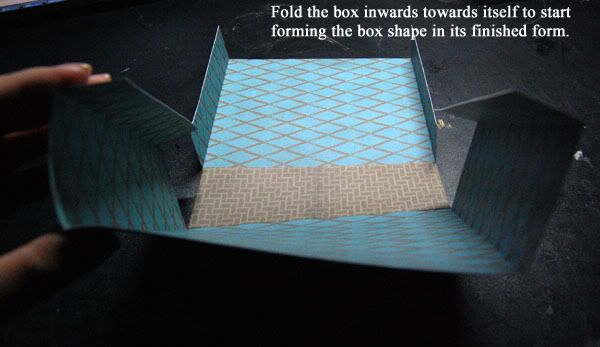 Step 10:
Whoohoo!! If you've gotten this far with me, you've just completed making the outside shell of the Stationary Box!
PART B: Stationary Box Shelves (there are 3 of them)


Step 1:
Step 2:
Step 3: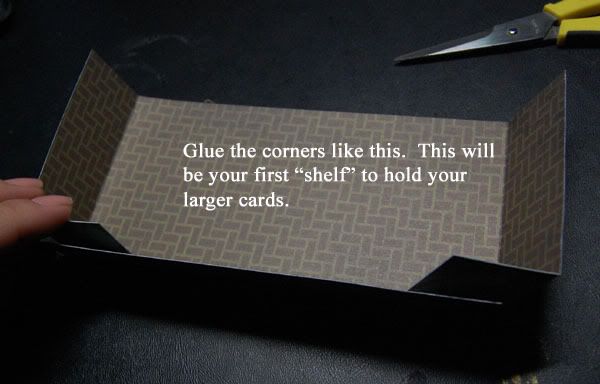 Step 4:
Step 5:
Step 6:

Step 7:
Step 8:
Step 9:
Step 10:
Step 11:
Step 12: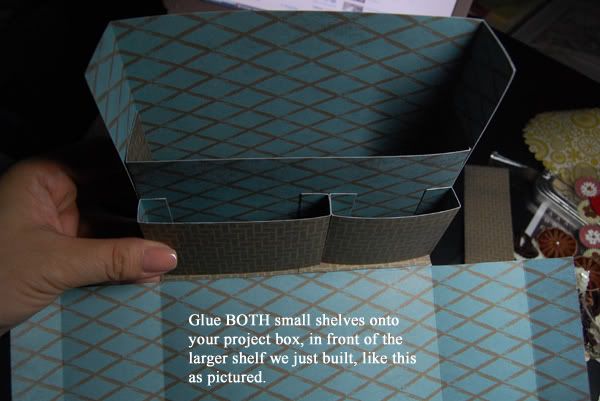 Step 13:
I used the branch border from the
Just My Type
Cuttlebug

folder set to emboss a
long length of matching brown cardstock to decorate the front of my shorter "shelves."

(please disregard all the contents in my Stationary box for now.)
Step 14: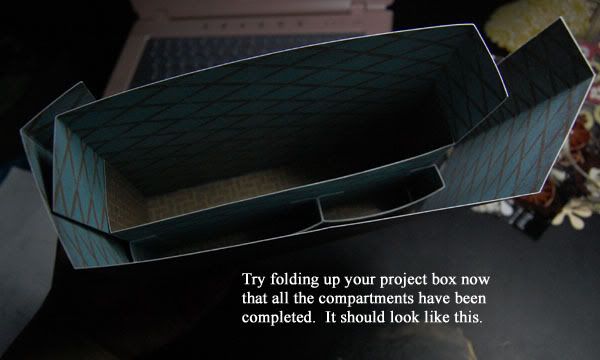 Whoohooo! We're almost there to the finish!!
Let's make our Stationary Box top now, shall we?

PART C: Stationary Box Top
Step 1:
Step 2:
Step 3: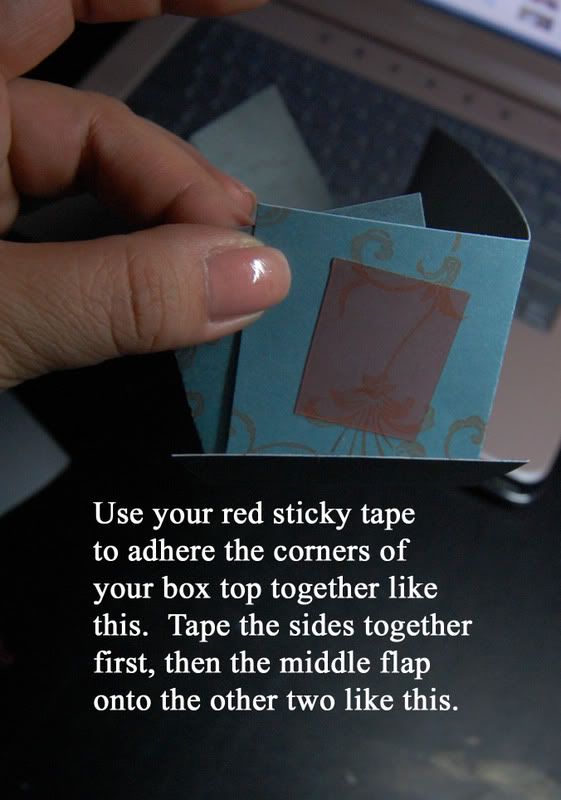 Step 4:
Alrighty, we're at the last stretch. Let's make our inside flap doodads, i.e. post it note holder, stamp holder and pen loop.

Here's what the inside doodads look like to keep you motivated to continue on with our little project. :)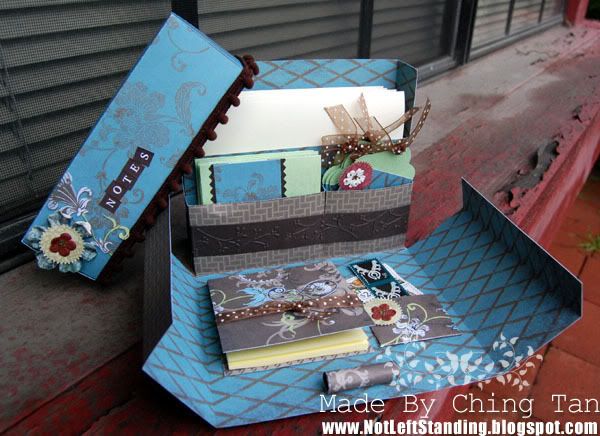 PART D: Inside Doodads

Step 1: Cut into a coordinating piece of cardstock or patterned paper at
3.25 x 6.25 dimensions. Score it in the middle, and put a pad of 3x3
post it notes inside. I decorated the top of my post it note holder with
some ribbon. Glue the covered pad onto the LEFT side of your inside
flap opening of our stationary box.

Step 2: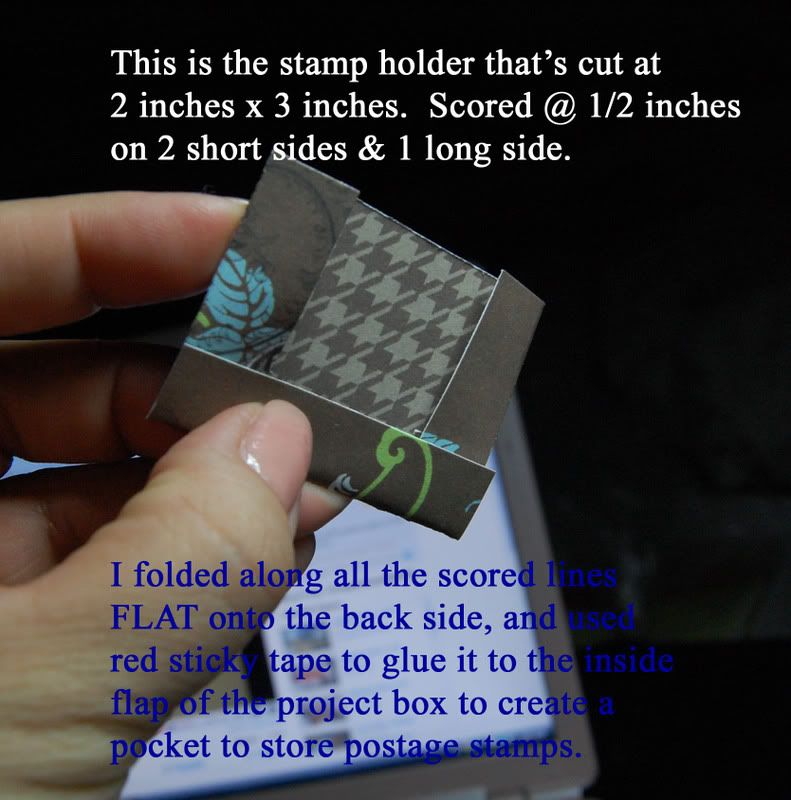 Step 3:

The stamp pocket is glued to the RIGHT side of the flap and the pen loop is glued nearer the bottom of the flap (when open) as pictured.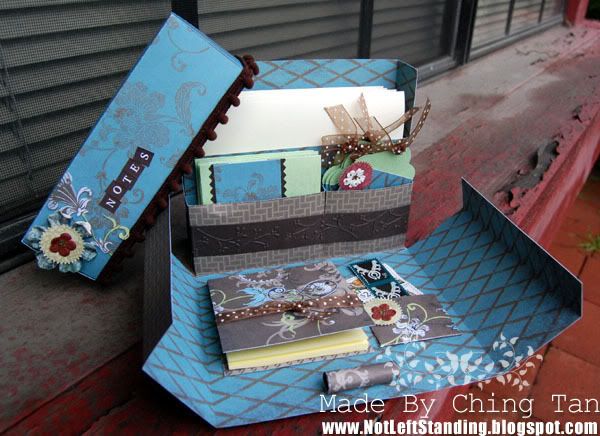 Yeeaahh!! We're done! Now, please go ahead and make a few 3x3 cards to insert in the LEFT smaller pocket shelf, some embellished tags for the RIGHT smaller pocket shelf, and some 4.25 x 5.5 cards for your larger pocket shelf in the back. You're on your own for these items as they are not a part of this tutorial.
If you loved the specific supplies I used for my Stationary Box, please visit
Art Freckles
to see their February
"Ticket to Whoo-ville"
monthly kit. Of course, I'd love to have you come visit
my blog
too as I often have tutorials.
Thank you for sitting in with me THIS long for this Stationary Box tutorial. Please join us NEXT Friday, and EVERY Friday, for our Cuttlebug Challenge Blog's Fab Friday series.
PS don't forget to add us to your blog roll, or follow this blog..
Are you going to be the next 500th? and win the prize?
Have a great weekend,