Welcome to Day 2 of our virtual Spa Weekend!
We are having an amazing time reading your emails and comments, thank you so much for the blessing of getting to know you better :)
Are you having fun yet with the blog Hop Adventure and the fun tutorials the team has put together for you?
We want to welcome the Amazing
SheetLoad ShortCuts
site for participating with us..
Please take a moment to visit their amazing site and store.
Here's some inspiration of what we did with their product earlier..
HERE

we have an awesome tutorial for you
"Gifts from the Kitchen"
With the end of the school year approaching, and the upcoming week (May 3-9) being Teacher Appreciation Week, we thought this Caramel Apple Kit would be a great "Gift from the Kitchen" for a special teacher in your life.
Melyssa Connolly
,
ShortCuts
Design Team Member, will be showing you how to create the Apple Card from the kit. Along with her pictorial tutorial, we will be providing FREE files to help you recreate her awesome apple paper piecing.
On to the tutorial…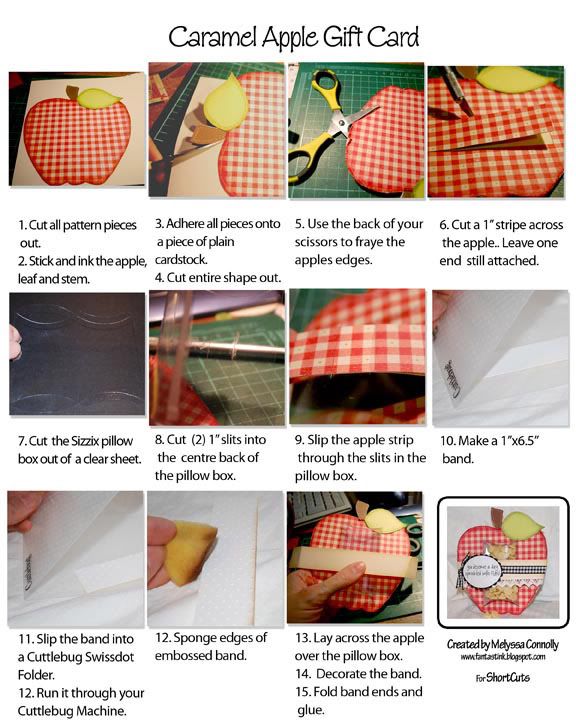 Now for the FREEBIE…
Download this zip file and receive the following file types to help you recreate Melyssa's paper pieced apple:
- SVG: For use with popular digital cutters. Just make sure the extra square on the file is 1" x 1" when you cut.
- PDF: For printing. You can print this file onto cardstock and make your own template, or print it directly onto the back of your patterned paper
- PNG: For digital scrapping. Use this file in your favorite digi-scrapping software and print your "paper pieced' apples. Make sure when you print your large apple it measures… tall and your small apple (for the gift card holder) should measure … tall.
Other pieces in the kit…
To go along with the apple card above, Melyssa created the following pieces, to finish out this Caramel Apple Kit.
Gift Card Holder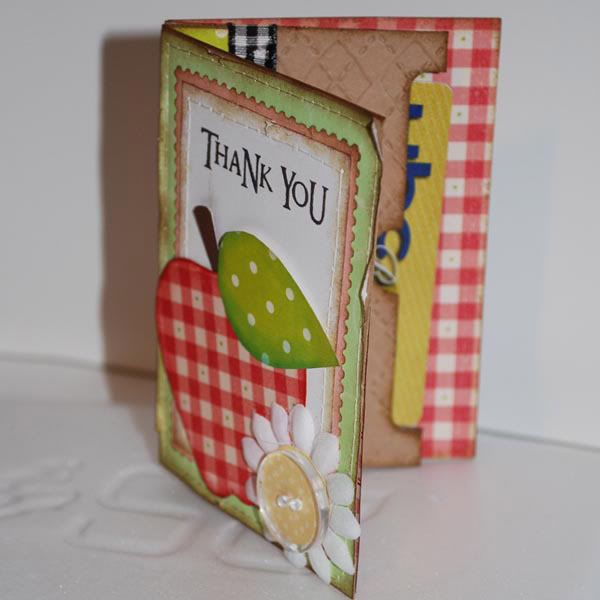 Melyssa decorated a ShortCuts Gift Card Holder Folder to go along with her kit. This could hold a gift certificate to your teacher's favorite store, or to the local grocery store for the purchase of apples to use with the kit.
Decorated Mason Jar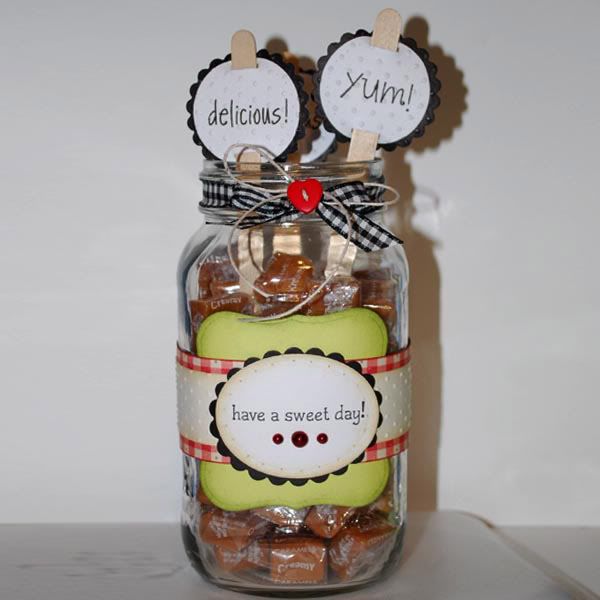 To hold all of the accessories for the kit; caramels, popsicle sticks, etc., Melyssa decorated this Mason Jar.
Want to recreate this project? Discount offer…
Place an order at ShortCuts' Online Store before May 10th, spend over $5.00 and receive 15% off your order!! Just use the discount code "NSD15" during your check out! *discount is off product only, not shipping/handling)
Our blog…
Stop by our blog for more ideas on how to use our products.
Thanks so much for joining us for our tutorial, and thanks to Maggie and her team, for allowing us to be a part of this fun celebration!
*********************************************************************************
Thank you to Alicia and her wonderful team!
Follow these simple rules to win a prize:
Leave a comment for the Design team on the tutorial
Participate and create a project inspired by the tutorial your name will be entered twice in the drawing.

Link us to your item via Mr. Linky at the bottom of this post
You will then be entered in the drawing to win a prize. All winners will be announced on Tuesday!

Remember if you don't have a blog, leave a link to any gallery where you posted your projects in Mr Linky!
Our prize for today:

In addition to the discounts from Sheetloads and Crop Stop is a $50.00 Gift certificate from the world renown
William Sonoma
Crop Stop
is offering a 10 % discount on all your orders by using code
CC4 on your order
.
for all your die cut needs and more!
Freshly Grown Java from Smoky Mountain Coffee, her
etsy store
Bleu Moon French Roast is balanced on the palate
How about a set of Handpainted coffee mugs?
Mary's
Etsy store
How about a set of Blooming kitchen towel basket?
Christie
Etsy Store
What's a party without sweets, eh?
Laura's
Sweet store
Grand Prizes for the month of MAY
The month of May we will be giving out an

Epson Artisan 700 All in one Printer


with 3 months supplies of ink Cartridges.. Participate in any of the Challenges all month long to be entered in the drawing.
Prizes will be awarded June 1st, the more you participate the more chances you have
!
Runner up will receive a Cricut Expressions, with 1 extra cartridge in addition to the 2 that comes with Cricut Expressions, and a caddy from Scrapcessories..
Participate in any of the Challenges all month long to be entered in the drawing.
Prizes will be awarded June 1st, the more you participate the more chances you have
!
Thank you so much for making this so much fun for us..
Remember to leave a comment and participate :)
Come back at 6pm for a wonderful evening of Bath essentials with the design team, what's a spa with out a Bath eh?
Maggie