Good Morning!
Sweet Treat Thursday is excited to Introduce
It's hard to believe we are already celebrating Mardi Gras with the advent of Easter! sheesh where did the first of the year go?!
First where does
MARDI GRAS
originates from? Here's some great info regarding
It is also called in different parts of the world as Carnival!
We are not known to be shy for throwing a party! Once again the Sweet Treat Team has created unique delicious recipes for you to celebrate Carnival or MARDI GRAS, using your Cricut from Provo Craft and some favorite cartridges.!
The Grand Parade of Sweet Treats Projects that is!!!!!
Hi everyone it's Kathy from
Paper Phenomenon
and welcome to Sweet Treats Thursday.
I hope all is well and you are ready for some fun and festive inspiration today!!!!! Check out the super fun and imaginative projects created by the Sweet Treats Team.
Nothing is too big or bold for Mardi Gras and "boy oh boy" do we have you covered for your next Mardi Gras party.
The centerpiece below measure 20 inches tall 12'' wide (at the widest point).
I used the Paperdolls Dress up cartridge for the masks and the Sweethearts Cartridge for the Fleur De Lis.
Check out my video for the "How did you make that Kathy?"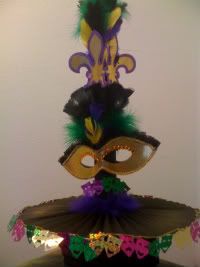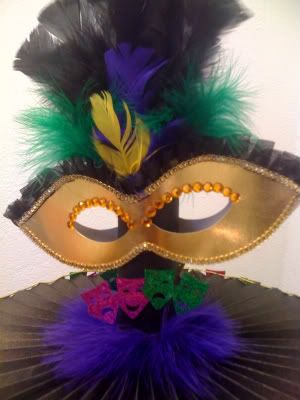 Please be sure to Leave A Comment. We want to know what you think.
OkieLadybug
did an amazing Party Invite. Be sure to stop at her blog for more step by step.
The party is in the house! I chose to make a mask and party invitation. The mask is actually simple to make, it is the embellishing that takes imagination and time. The party invitation was fairly simple but used a number of cartridges.

Here is a close up of the party invitation.




Here is a close up of the amazing mask, kewl eh?
Are you ready to see more??
Hi It's me, Cindy, joining the Sweet Treats team today with Mardi Gras creations. Want to decorate for your Mardi Gras festivities? Here's a simple wreath to get you started and a card to create for your Mardi Gras friends. So easy to make them both with your Cricut!
Use this card as an invitation to your own Mardi Gras gathering, or maybe to send to someone who won't be joining you! Easy enough to make a few.
Starting out with a grapevine wreath you are ready for as much or as little bold and bright as you want. My example should get you started!
Stop over at
my blog
to see a few what cartridges were used.
Are ideas spinning in your head yet??
Beth here to invite you to my Mardi Gras Party. I have a menu, place card, and party favor for you today at Cuttlebug Challenge, so lets get the party going!
,
Just want to add that my background on the menu was all pieced together using the diamond from Provo Crafts Cricut cartridge George's Basic shapes and if you would like to find out how I created my 3 pieces, please check my blog for all the how to's
Nana's Memories and More
Thank you for joining us again this week at Cuttlebug Challenge and if you like what you see, please be sure and add our banner to your blog and become a follower hope you have enjoyed my project
Beth!
How about a king and Queen Mask from the
Amazingly talented Carol
Greetings Everyone … This is Design Team Member ♥Carol♥. With today's theme being Mardi Gras, I had to make a mask, in fact, I made two of them. These are to represent the King and Queen of Mardi Gras. I created them in Design Studio by combining shapes from the new Cricut Paisley Cartridge. I did miniature versions of the masks for the cards. I hope you enjoy them. Please visit my blog (
LittleCreationCorner.blogspot.com
) to see additional pictures and details on how they were made. Have a great day, and HAPPY CRAFTING!
The KING Mask
The QUEEN Mask
The CARD
The Set
How about a tutorial
????
Here's Carla's recipe for you...
Good morning ladies! I'm Carla and here to show you a cute & easy project for your Mardi-Gras celebration!! I have to admit, I don't know much about Mardi-Gras, so I hope you'll find my creations fun to try out all the same! The first is a fun little party invitation along with a banner to have at your table or perhaps up on your door letting people know they've found the fun! ;)
Materials:
Wild Card Cartridge
Celebrations Cartridge
Plantin Schoolbook
Purple, Green, & Yellow Bazzill Cardstock
Doodlebug Rhinestones
Directions:

Card:
1. Cut card base from Wild Card, cut layers, adhere on bottle.
2. Cut 'scallop' trim from Celebrations, adhere to card, adhere rhinestones.
3. Cut "It's a Party" from Wild Card. Adhere to card.
4. Cut party hat swirls from Celebrations, adhere to bottle top.
Banner:
1. Cut banner from cardstock in 2 colours in same size, layer, adhere.
2. Cut Mardis Gras & stars from Plantin Schoolbook. Adhere to banner.
3. Cut party hat swirls from Celebrations, adhere to top star as shown.
4. Adhere rhinestones on banner.
Carla,
I'm sure by now you are wondering if there are any prizes... Yes indeed, there is!! Wha' dis a partee' without prizes, eh??
Your prize is the
Celebration Cartridge
donated by Provo Craft,
I gotta tell you this cart is da bomb...
and....nope we are not done yet.... We are also giving

3

of these books that are very hot..
How to enter:
1. Leave comments on posts from the 15th to 3rd of March, as many times as you wish..
2. Become a follower.
if you enter the Cuttlebug challenge here that gives you 5 extra additional entries..

Winners will be announced on the 4th! easy eh!
PS, did you know if you want to print anything from our blog, all you have to do is hit file then print preview, then print?? kewl eh?
Have a fabulous weekend,
Maggie